If you've kept up with news about the housing and construction market, you will know that we had a recent boom time with house price escalation exceeding the last "bubble"of 2008. Houses sold quickly at previously unimaginable prices, while renovations and new home construction continued unabated despite rapidly rising costs. It's been difficult to find an architect or contractor available for new projects and if you do, you have likely been told to wait several months. You may have heard about people waiting a year to get appliances delivered, and window order delays holding up projects on a regular basis. 
I keep track of new project inquiries I receive, and in 2021, there were over 200, 170 in 2020, and a more typical 60 in 2019. Some projects were small, but many were for new houses or substantial renovations. Due to ongoing work load, I was able to only take on a few of these. When turning down projects I would often refer them to other architects but they too were mostly booked up themselves, so I have no idea how most of these people fared in getting their projects going. 
Recent data from the U.S. Census Bureau shows construction costs went up by 17.5% year-over-year from 2020 to 2021, the largest spike in this data from year to year since 1970. 2021's costs were also more than 23% higher than pre-pandemic 2019. Conversations with local builders in NJ suggest that prices here have actually increased close to 30% in the past 2 years. Everyone thought prices would come down once post Covid supply chains came back to life, but so far it hasn't happened. There won't likely be any price drops until demand slows down. Contractors and suppliers often won't commit to prices for materials until the orders are placed.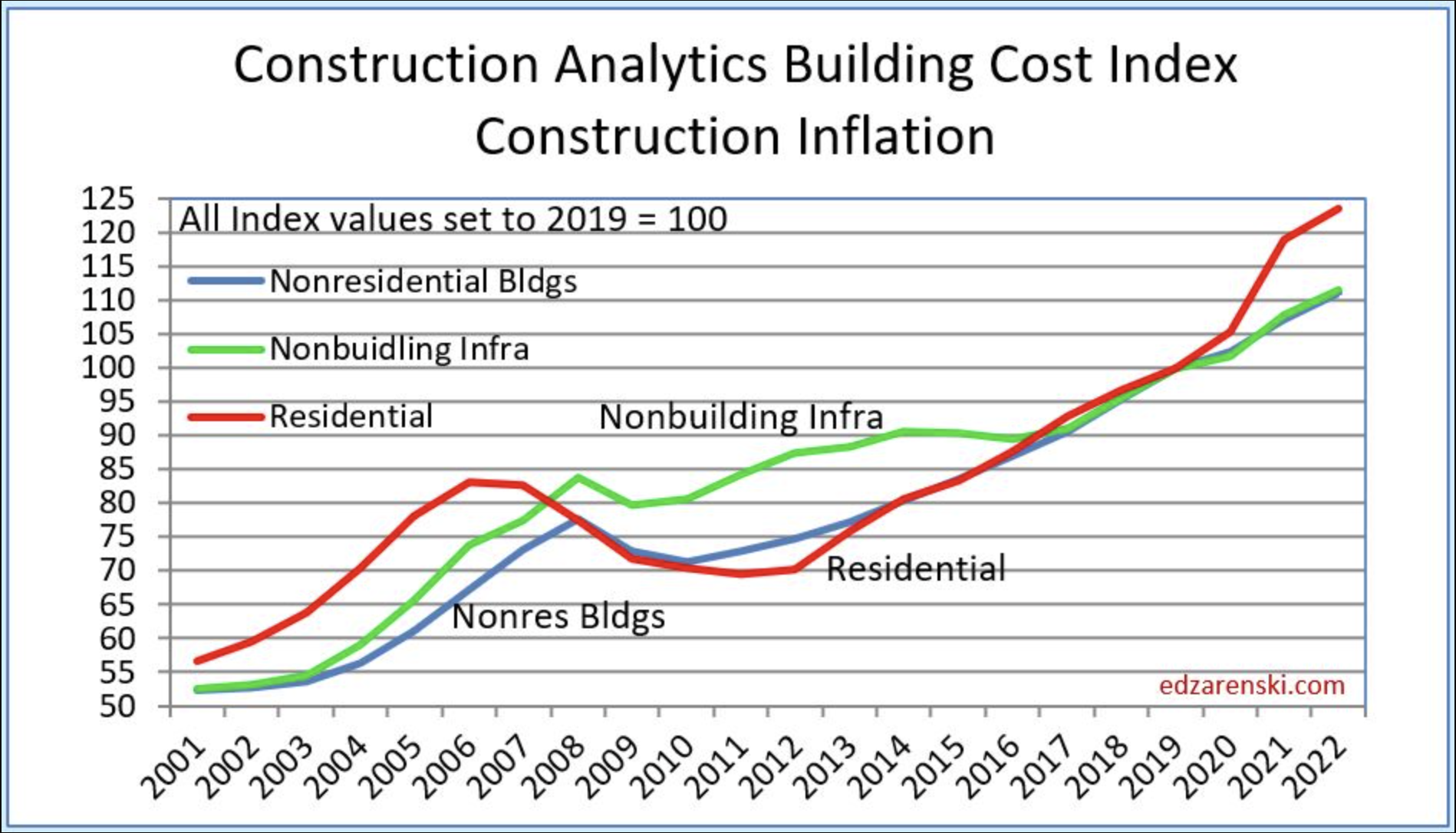 However, with rising interest rates and a bit of a slowdown in the housing sales market, what does that mean for costs and availability going forward? 
I had a dramatic slowdown of new inquiries starting in May, and many of my colleagues reported the same. I thought maybe a correction was coming, and down the road, less demand would translate to more contractor availability and some price reductions. However, the pace of inquiries has already picked up, and I still have to turn down more projects than I can accept. And overall construction prices have not abated. 
One of the most headlined price increases over the past two years has been lumber. The latest Producer Price Index report showed the price of softwood lumber fell 23% in June. Unfortunately, other building materials have continued to surge. Combined with rising energy costs and increased labor costs, overall construction costs continue to climb. 
If you're looking to purchase a new property for a construction or renovation project,  I strongly advise that you get some realistic guidance about the likely costs before you commit to the purchase. Most homebuyers woefully estimate the cost of what it will take to make their goals a reality. 
Once you've decided to go forward with a project, don't be surprised if it takes longer to get the project going and completed than you anticipated. The architect or contractor you want may have a waiting list. To minimize delays you may have to make some decisions early in the process and get orders placed. Windows and appliances are still the two biggest project hold ups currently.
Being organized and decisive are always beneficial to the success of a construction project, but never more so than now. At some point, demand is bound to diminish, prices may come down, and professionals will be more available, but if you're ready to do a project soon, then at least be prepared for what's to come.