Part 1- Accessibility and Safety
Mosaic tile makes a great non slip floor. Note the flush shower floor- no curb to step over. The tub deck extends to provide a bench in the shower. Walls provided with blocking to allow easy installation of grab bars in the future.
I've recently had 3 separate clients who, during the course of their project, have had accidents that resulted in temporary mobility challenges. As I was preparing to write about designing for the "empty nester", I thought of these three men, all in the age range that would fit into this group.
Empty Nesters often decide it's a good opportunity to pursue a new life for themselves in a different setting- time to create a dream home that they can stay in through their older years.
We all know that the ideal home for the elderly and disabled should be subtly different from those of younger, able-bodied people. If you are planning a new home in which you might live into your old age, take time now to think about and invest in a design that will help make those later years as comfortable and safe as possible. Slipping and falling is the cause of half all deaths by accident in the home. With careful planning and an eye to good design, you can achieve these goals without making the house feel like an old-age home.
Below are a few broad-stroke suggestions for you to ponder.
Around the house
Slip resistant flooring is available in many materials: textured porcelain or stone, rubber or linoleum tile, wood floors with anti slip finish. Avoid polished finishes.
Doorways — doors as well as circulation areas should be wide enough for someone with a walker or wheelchair to safely navigate.
Door operation — Sliding (or pocket) doors are a great option; easy to operate and without the space impediment of swinging doors. Self-closing hardware is available for pocket doors. Where one does have conventional swinging doors, avoid knob handles — lever handles are far easier to use for anyone who experiences difficulty with their hands or wrists (or when hands are dirty or full).
Outdoor Access — For an outdoor deck or porch, match the floor height from inside to out, and using a recessed door sill allows for ease of movement and reduced tripping.
 
Bathrooms
It is here that we are most vulnerable and prone to accident. Key issues to consider:
Grab bars — they don't have to look so institutional. They can serve multiple purposes by integrating with soap and shampoo shelves, hand shower bars and other accessories, and can be integrated into an overall design scheme in an artful way. Even if you don't want grab bars now, we suggest putting blocking in the walls (and have a record of where it is) so that they can be easily installed at a later time.
Tubs — With the higher walls of a deep soaking tub, getting in and out is much easier than a standard tub (just like a conventional car vs a low sports car) since you are sitting at about the same height as a chair.
Curb-less Showers — a continuous floor is what you want, not only for walkers or wheelchairs access, but also to avoid tripping. This also creates a nicer overall look with a continuous floor surface.
Bigger showers — wider, without a door, allows easier access for oneself and for the times of a second person assisting.
A shower seat — not only great for the elderly, but also easier for shaving legs. We suggest you add a hand-held shower near the seat.
Toilets placement — avoid tight or enclosed spaces, particularly should mechanical or personal assistance ever be required. Also, install an electrical outlet by the toilet. This will allow retrofitting a washlet later if personal sanitation becomes more difficult.
Storage — best positioned where it can be easily reached by someone with physical impairments. Drawers in the sink vanity are ideal.
Slip resistant flooring — This is vital, especially in the shower. Consider highly textured porcelain tiles, stone, rubber or linoleum tile/ wood floors with anti slip finish.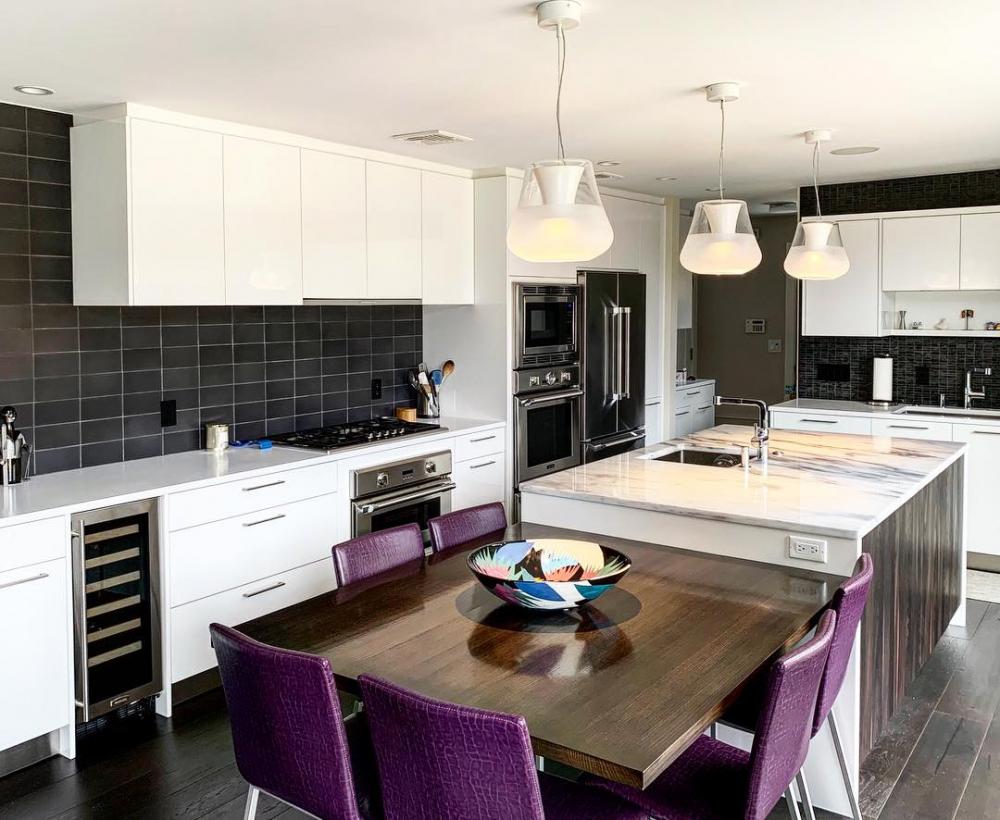 Rather than counter height seating so commonly found at islands, the table as part of the island provides a lower work surface for someone who might need to be seated.
Kitchens
The heart of the home. Good planning here makes the kitchen easy to use by cooks of any age.
Counter heights — Design your kitchen to have different counter heights so that sitting while working is an option. An area with a table height counter rather than having all standard height counters will give you flexibility for the future.
Ovens — French or pivot door ovens are available and allow easier and safer access than the standard flip down door.
Cooktops with controls at the front will be easier and safer to use than the ones with controls on the side.
Maximize cabinet storage at easy-to reach-heights. Tall upper cabinets may be hard to reach and should not be counted upon for day-to-day storage.
There are many other factors to consider in designing a home that truly maximizes the potential of safe and independent living for the elderly. With forethought and creativity, these can all be integrated into a design that suits your future needs. Discuss your concerns with your architect or designer, and do your own research to find those elements that will make your life easier down the road.