Moving to Philadelphia
After 18 years in our New Jersey house, my husband and I have moved to Philadelphia. We felt ready for a return to city life, and our love for Philly and close family ties there made it the perfect choice. (As with millions of others, the pandemic taught us that working fully remotely has little downside, however, I anticipate frequent visits to my office in Millburn.)
When it came time to put our house on the market, our realtor brought in a home stager for a consultation. They offered feedback on the current state of our home and offered a slew of ideas how to maximize its appeal for a broad range of potential buyers. We liked what we heard and decided to work with them and follow their guidance. In the end, their advice proved to be invaluable. Here are a few key takeaways from our experience.
Clean House — For any buyer, a new home is a fresh start. We hired a service to perform a deep clean of the entire place, including the light fixtures, appliances, and cabinets. Prospective buyers are likely to open closets and cabinets to see what kind of storage the home offers — nothing crammed, please — so we decluttered throughout the home. We were instructed that overflow from any rooms was not to be placed in the basement or anywhere that might suggest there wasn't enough space upstairs where they belonged (where does one store a stand-mixer? The trunk of our car became a moving storage bin!)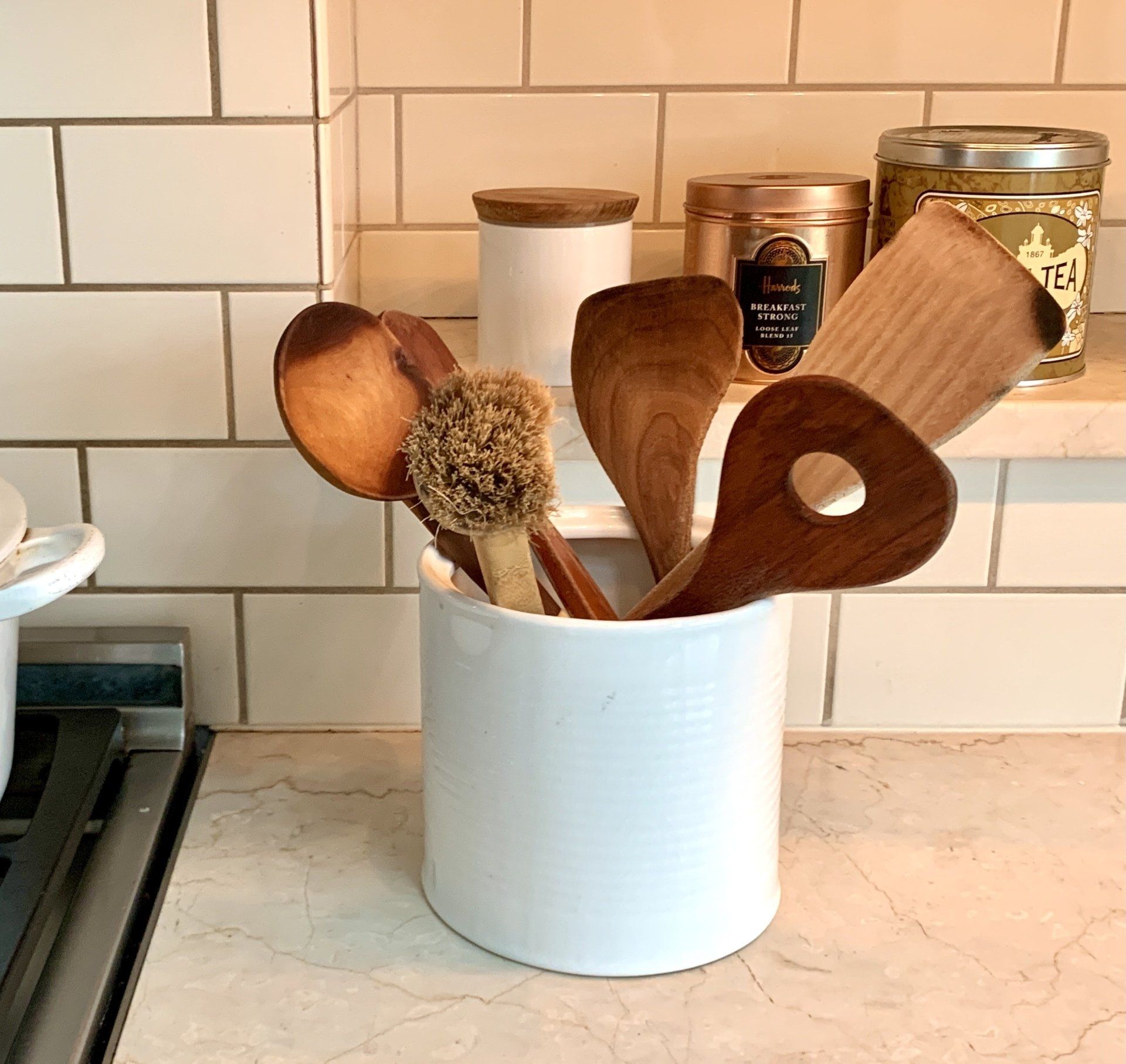 Spic and Span — Kitchens stand to be a major selling point for any home. Here we were given very specific pieces of advice. For instance, we typically keep all of our cooking utensils in a crock on the counter. The stagers advised us to get rid of all the metal tools, keeping only the wood. This reduced the number of items so significantly that I had to use a smaller crock for the right scale. Additionally, we were told to pare down our crowded knife rack, leaving only matching knives and attractive shears. Truth be told, these seemingly small changes did improve the overall look of space.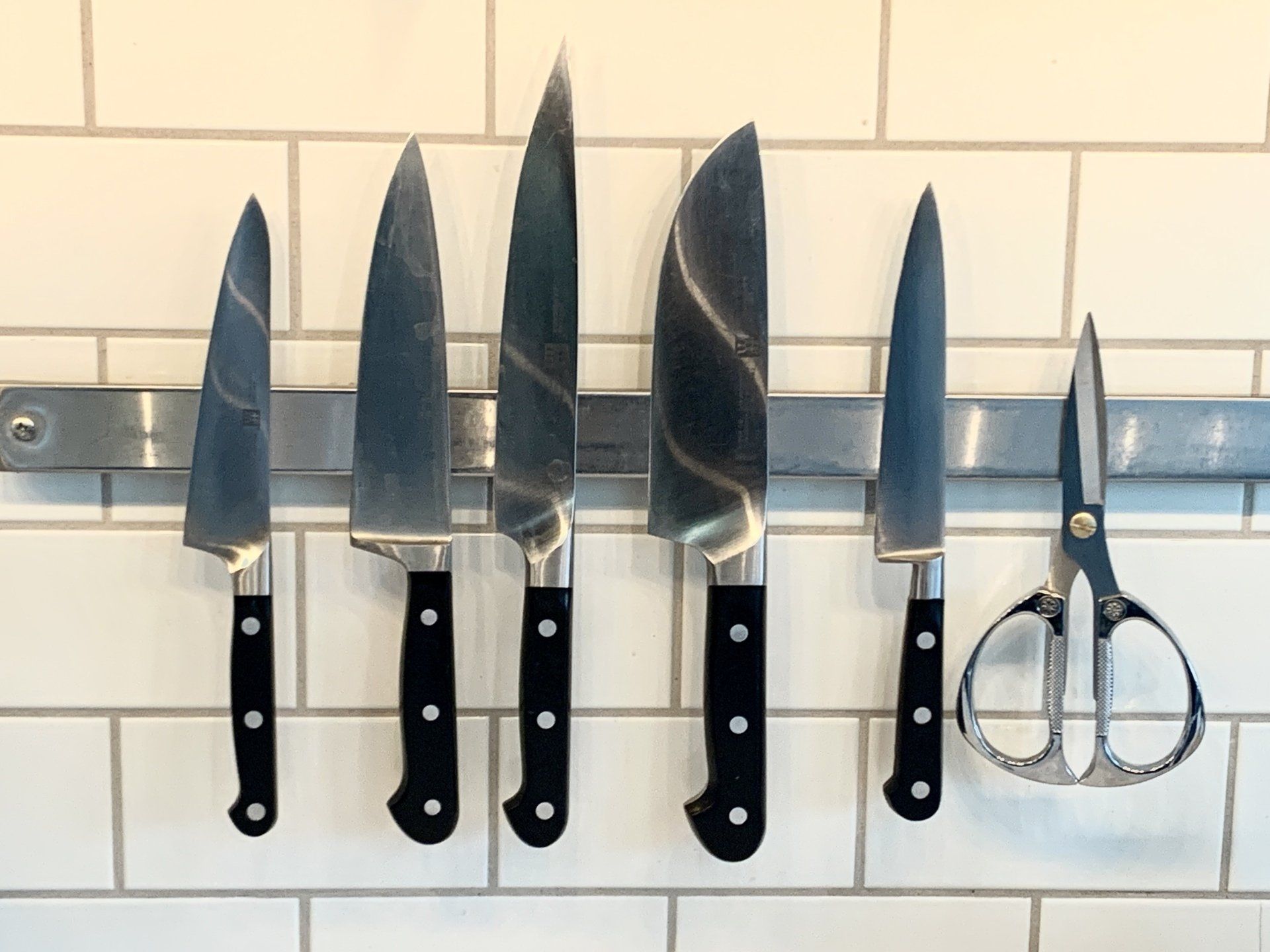 A Brightly Lit Blank Canvas — In order to put each room in the best light possible, literally and figuratively, we furnished every fixture with the brightest bulbs we could find. Prospective buyers should be able to walk in and immediately imagine themselves living in the home. With that in mind, we removed all personal photos, many books and overly-busy decor arrangements. Bookshelves were thinned out and we used some of our existing décor to create artfully composed shelves. In the living room, the existing Tibetan rug was replaced with a monochromatic wheat-colored, natural fiber rug that really made the furniture pop.
Model Closet — In our master bedroom, we were told that the walk-in closet should be set up like a retail store. we bought white hangers for the shirts and used only wood hangers for the pants. All items were neatly spaced. Shoes were grouped by color, we cleared all items off of the floor and we also pared down the number of folded items on upper shelf.  The jackets on the coat rack at the front door were to be all one tone only — black or navy — out with the red and bright blue!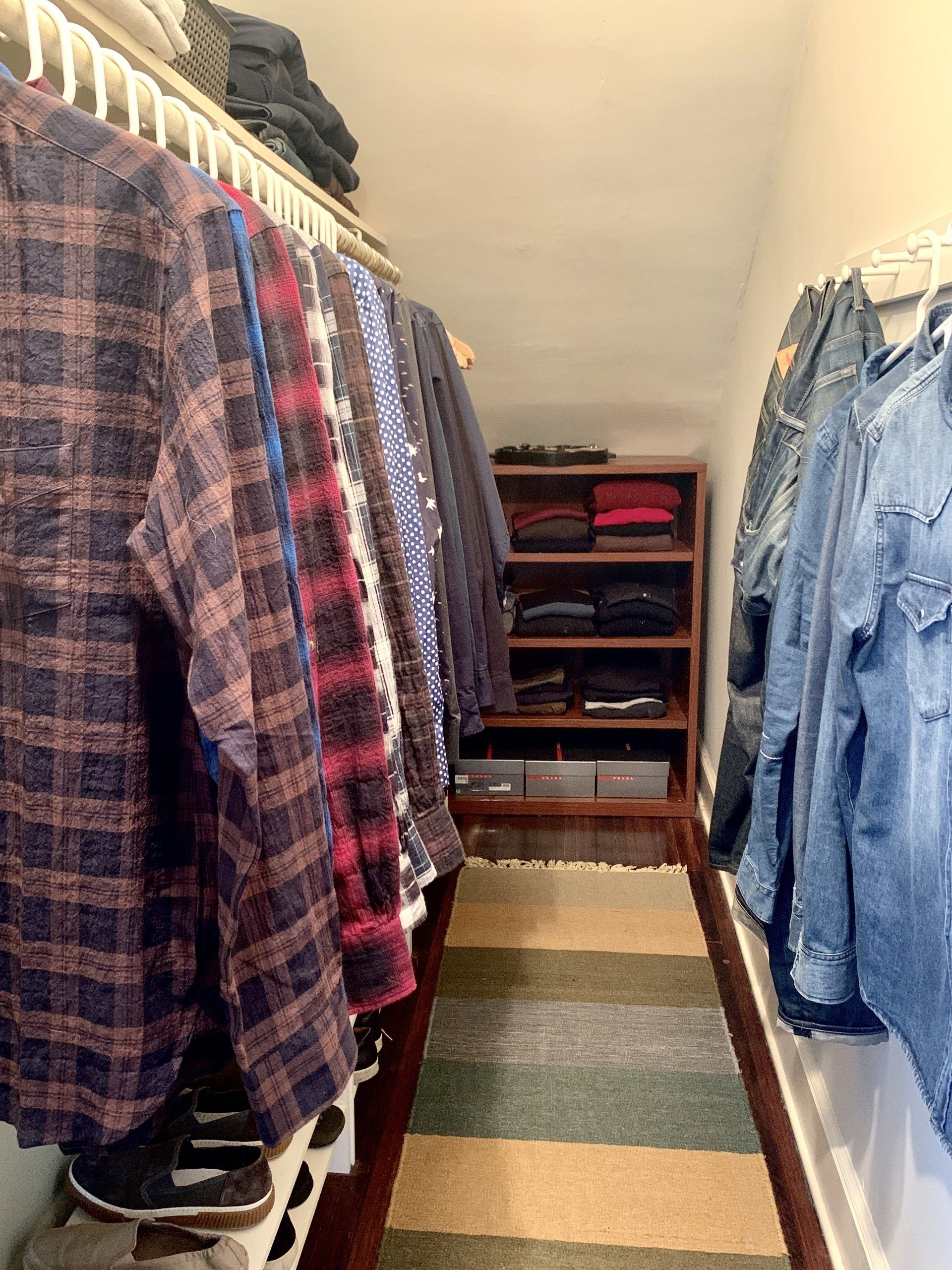 From the Ground Up 
Our house was a small two bedroom, and we knew that might be a stumbling block for most suburban home seekers. The basement had a full bath, but was otherwise only semi-finished. This is where our guests stayed over the years and despite how much they would rave about the space, we couldn't really promote it as a legal bedroom. Our realtor helped us recognize the potential of this space to maximize every square foot in a small house, so we put in a new floor, changed some hardware, added moldings, and painted everything to brighten it up. The stagers then helped us make this bedroom space even cozier. Once the work was all done, predictably we said, "we should have done this ages ago!"
Potential buyers arrived to a house in perfect condition. With everything put away, newly neat and pristine, it felt like the house was no longer ours but a product for public consumption. Our evenings spent in this perfect house felt like living in a catalog.
Shortly after putting the house on the market, we accepted a bid from a buyer who wrote us a heartfelt letter about how much the house resonated for them; they commented on how they could 'just bring their toothbrush' and move right in. It was gratifying to feel that we had achieved our goal.
Looking back at the process, I recognize that what the stagers and our realtor did for us was not merely creating a sterilized version of our home, but rather bringing out its full charm and potential. And now we are using this playbook again as we put together our new place in Philadelphia.