Whether you love them or hate them, 80's "Contemporaries" are a unique style that reflect the exuberance of their time. Homes built during this period are now considered less desirable, as their design can seem overwrought and unrestrained to the generation that grew up with them. The timelessness of the mid-century modern home has been the preferred style of those looking for a modern house, but they are very hard to come by. Maybe now is the moment for those 80's houses to shine again, with just a little nip and tuck. Leading fashion and interior designers are already embracing the 80's style as inspiration.  
Let's take a closer look at 1980s contemporary houses, including their style and construction issues to consider if purchasing or planning a renovation project to a house built at this time.
Cultural Influences
Following the economic doldrums of the late 70's – 1982, there was a new housing boom in the US. The 80's saw the increased economic power of the grown up Baby Boomers, the young urban professionals (Yuppies) who were ready to purchase homes and raise families. They were more affluent than previous generations of first time homebuyers, and they wanted bigger, more dramatic homes than past styles provided.
The 1980s were a time of change and experimentation in the world of architecture. Postmodernism was a movement that flourished in the 80's as a response to the perceived limitations of modernism. Postmodernism embraced a more playful, eclectic approach to design and rejected the strict functionalism of modernism. Noted modernist architect, Philip Johnson, shocked the world with the design of the new AT&T headquarters in New York, completed in 1984. The broken pediment was a clearly decorative flourish that broke the rules of modernist skyscrapers of the time.
The Italian design group, Memphis, ushered in a movement that embraced bright colors, bold patterns, and playful shapes, rejecting post war minimalism. While not directly related to the design of contemporary homes, Memphis design had a significant impact on the broader design aesthetic of the 1980s. America had money and wanted to have fun with it.
Postmodernist eclecticism touched every corner of our lives. Think of Miami Vice modern glamor, Laura Ashley floral prints, chintz fabrics, Michael Graves' Alessi tea kettle, and Missoni patterned knits. The list goes on.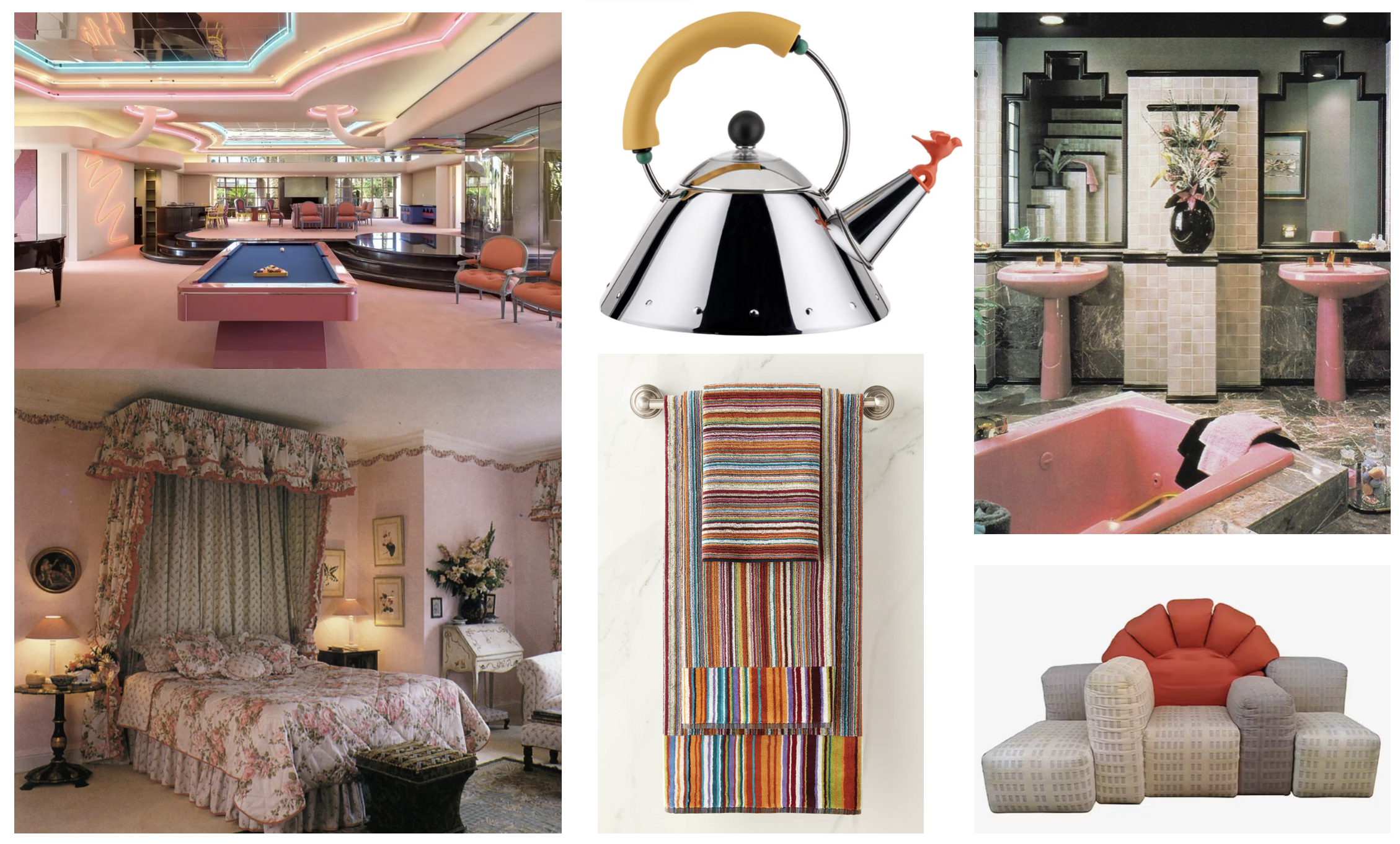 Style and Features
The houses of this period blended modernism and postmodernism. They often featured asymmetrical facades, geometric shapes, and unusual rooflines. Stone was used as accent features against the wood siding, which was often installed as a mix of vertical and diagonal patterns. Angles and curves blended, and cathedral ceilings and double height spaces became a selling point.
Compared to houses built prior, they are generally more spacious and were built with generous storage, 2 car garages, larger kitchens and bathrooms.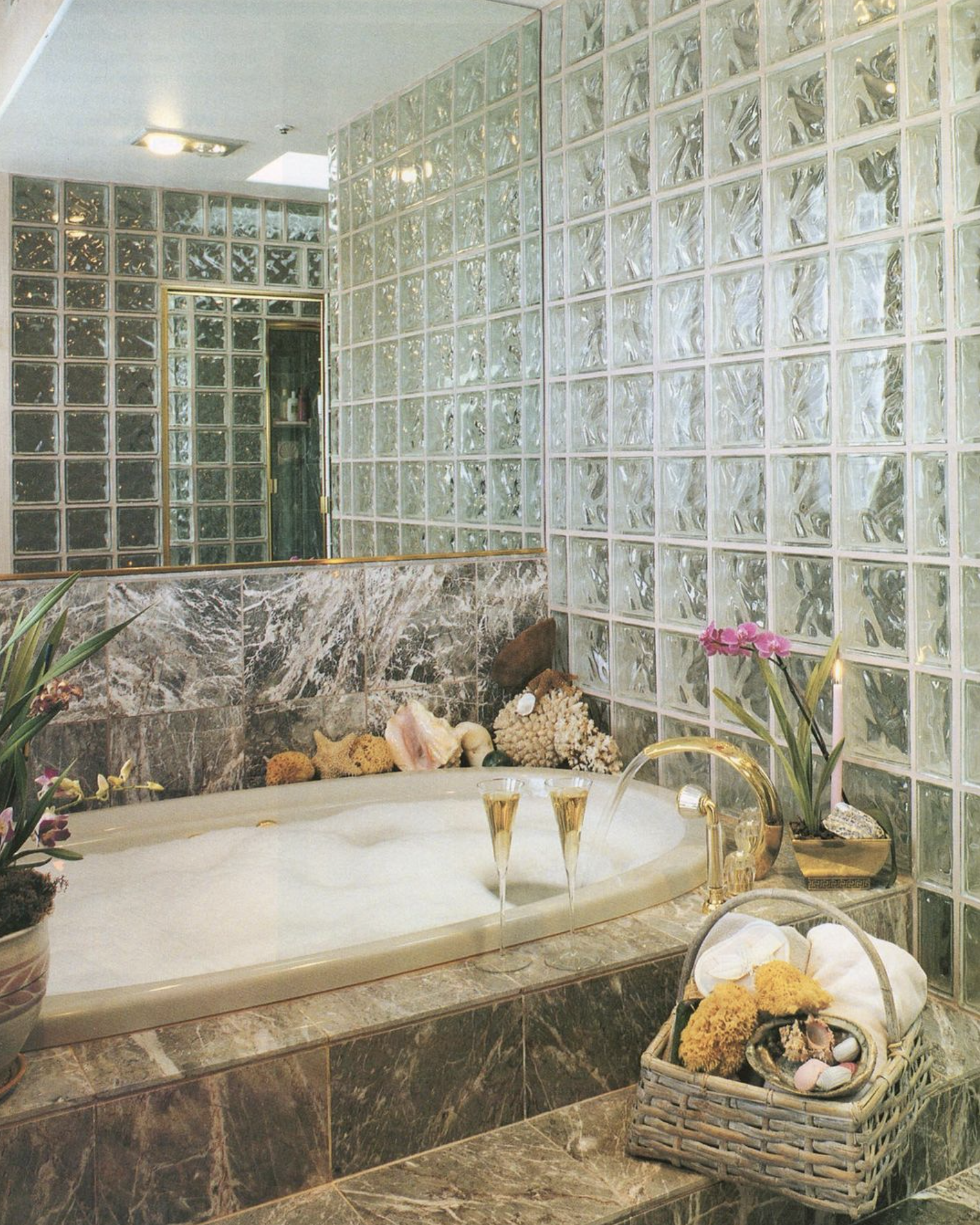 Glass block was often used to take the place of solid walls to allow for both privacy and light transmission. Marble bathrooms with large platform tubs were common, kitchens were spacious, peninsulas pre-dated the current trend for islands.
Construction Related Issues
Now 40 years old, most of these homes are ready for renovations to bring them up to today's standards. Here are things to be aware of before buying with the intent to update.

Insulation standards were not to the levels expected today, but better than older houses. Upgrading insulation during a renovation can help to reduce energy bills and make the home more comfortable. Windows are likely to be double pane, but if not, replacement will make a big difference in energy efficiency.
If the house has stucco siding that wasn't re-done in the past 20 years, don't buy the house. The methods used for the thin coat stucco at the time have created serious rot, mold and structural issues.
Electrical systems at the time are considered "modern", consisting of circuit breakers instead of fuses, using grounded three prong receptacles, and more receptacles than many earlier homes. 100 amp panels were typical, and may be suitable for most homes, but upgrades such as a swimming pool, car chargers, switching to electric appliances from gas, would likely require additional service.
HVAC systems, if not previously updated, are likely to be needing replacement. Ductwork should be checked, especially flexible ducts, for damage, loose insulation, kinks that hinder air flow.
Good news- both lead paint and asbestos usage was banned in the US in 1978, so unlike many older homes, this won't be an issue.
Hardwood flooring was not a trend, and would not likely be found under carpeting in these homes.
Design Challange
The post WWII building boom saw the development of many ranch and split level homes. Many of these have already been renovated. Builders have often tried to create a more traditional colonial style out of these homes, other designers like myself have seen in these homes an opportunity to bring a modern aesthetic to better complement the original design intent. 80's contemporaries are unlikely to get a colonial makeover- one has to embrace these sometimes difficult forms and find ways to work with them while giving the house an update for today's aspirations.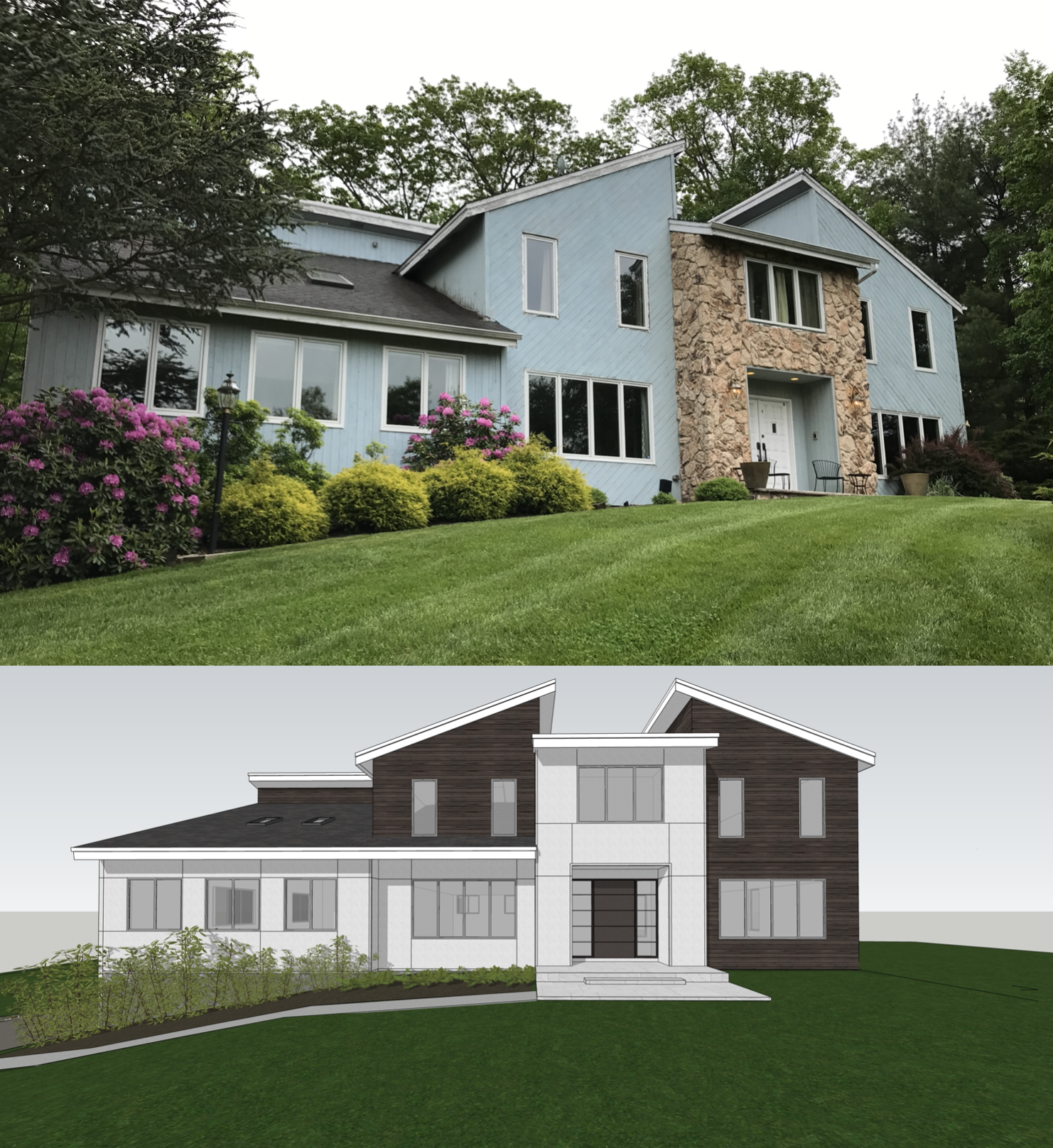 In this project of ours, there were no structural or window changes, just a new front door and a small roofline extension. The house needed new cladding, and we used this opportunity to shift the focus away from the split gable form, and tie together the approach from the driveway with the entry volume. The dark wood tone of the main body of the house helps it to recede and further highlight the shift in emphasis.
The 80's are on their way back, but this time less giddy, and more thoughtful. Owners want quirky over crazy, individualistic expression over excessive exuberance. It might be time to take a fresh look at these houses and see them as diamonds in the rough.