How is yours performing?
Working at home, schooling at home, exercising at home, cooking at home, Zoom cocktails at home, Netflix at home. Because of the pandemic, home is our entire world. But once this crisis has passed, how will our ideas of "home" change? Are there technologies that will become standard? As a residential architect, I've designed a lot of homes for clients, and now wonder what might be different for future projects. Certainly maximizing wifi power and coverage will be on everyone's mind. It's not something that impacts the design, but it's a feature that will be expected.
I think back several years when I first had a whole-house generator installed as part of a major renovation. Two months after completion Hurricane Sandy hit, my clients had power and a fully usable house throughout that ordeal. They told me it was the best investment they made in the house.
When it comes to the design of the home, many of the features I already try to incorporate take on new meaning:
I've been encouraging having a bedroom/ bathroom on the first floor. Great for aging parents who visit, or come to live. Great for anyone injured who is unable to use stairs for weeks or months. Great for aging in place, not having to move to another home because you can no longer use stairs. Great when self-quarantine at home is called for.
Home offices have increasingly become integral in home designs. No longer just a desk tucked into a living or bedroom corner, we need a dedicated space where we can spread out to work long hours in comfort, without distraction, nor distracting others with phone calls and video meetings. And if those video meetings become a norm, more attention might be paid to the background and lighting.
I've seen an increased demand for walk-in pantries. This is very timely as we recognize the need for more substantial reserves of food, paper products and household goods.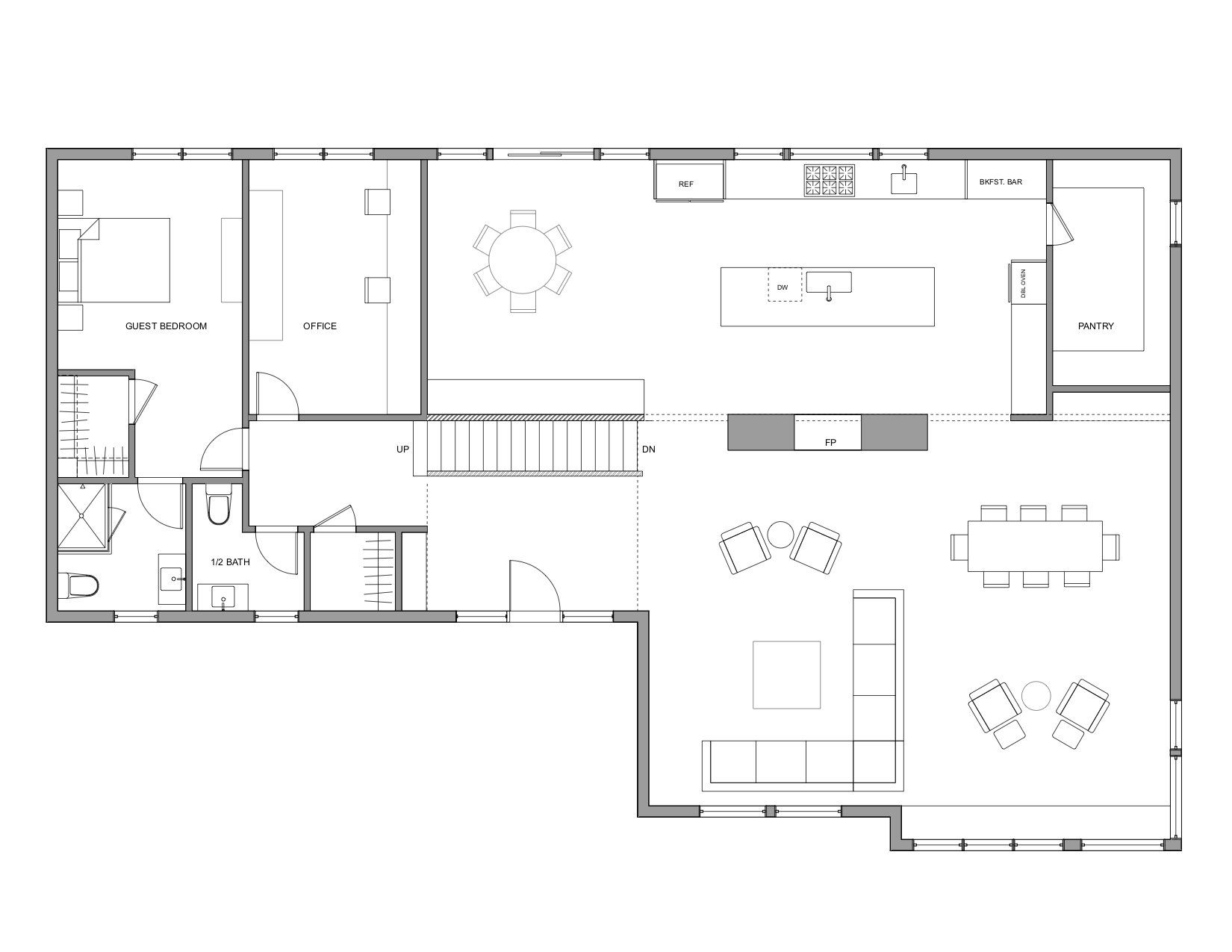 This is the first floor plan for a home I started designing just before the coronavirus situation hit. It happens to illustrate many of the features mentioned. Bedroom suite, separate office space, walk-in pantry, easy flow between living areas even while maintaining separate living and kitchen spaces. A generously wide hallway services the more private areas of the home.
Open-plan living has become the default style of communal spaces at home. And now in this stay-at-home era, more than ever families cherish the opportunity to be together while still engaging in separate or group activities. The larger space becomes adaptable to a variety of functions when the outside world shuts down.
When your whole life is at home, outdoor spaces become doubly enjoyable and important for maintaining sanity. With better weather on the way, exercising and those laptops will be moving to the porch, deck or patio. As will meals and coffee breaks. A house designed for easy connection to outdoor living will be highly valued. A screened in porch takes outdoor living to another level, providing protection from bugs and sun, a true outdoor extension of the home. A ceiling fan and infrared heater can greatly extend the useful season of such a space.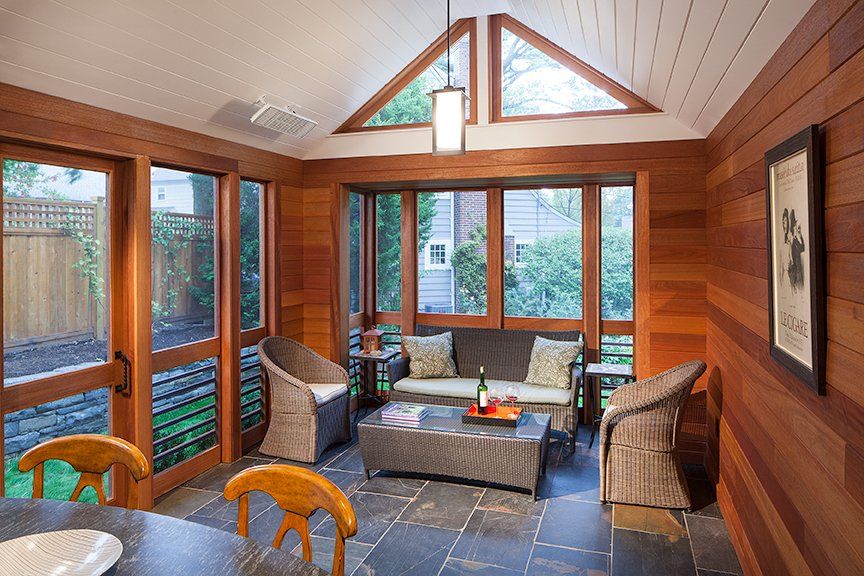 This screened porch was added adjacent to the kitchen as part of a renovation project.
DESIGN FOR SERENITY
I predict a new awareness of spatial dynamics, how critical they are to create a sense serenity in a home. Well proportioned rooms and flow between spaces are the the key starting points. A large space with low ceilings, or a small space with ceilings too high create anxiety and disorientation. Think of the difference between being in Grand Central Station or Penn Station in NY. At Grand Central, the lofty open space is bright and uplifting, you can see where to go easily, and even with all the activity, there's a sense that all is well. Penn Station on the other hand is a nightmare of low ceilings, chaotic spaces, poorly proportioned passages and tight bottlenecks that create a palpable anxiety.

Even the main hall at Penn Station has low ceilings relative to the size of the space.
The hall at Grand Central welcomes the passenger in a grandeur.
In a home, a double height space works if the size of the room and function is appropriate, but when the space is too small, there is an imbalance. A clear flow between spaces, visual connections that align, simplicity of forms, along with balance or proportion, are essential ingredients to creating a desired serenity and functionality.
Similarly, I've been in many houses that make me uncomfortable, frustrated and occasionally anxious due to poorly proportioned spaces and an unharmonious flow: narrow hallways with randomly spaced doors, bedroom doors that open against a closet door (so you always have to close the bedroom door to use the closet.) Unnecessary hallways between living spaces, flow between rooms with obstructions or wasted space. Odd angles in rooms that make it hard to furnish the space easily. Rooms with evenly spaced lighting recessed in the ceiling that feels clinical or corporate. The list could go on. Bad design will always be felt by the inhabitants, even on a subliminal level.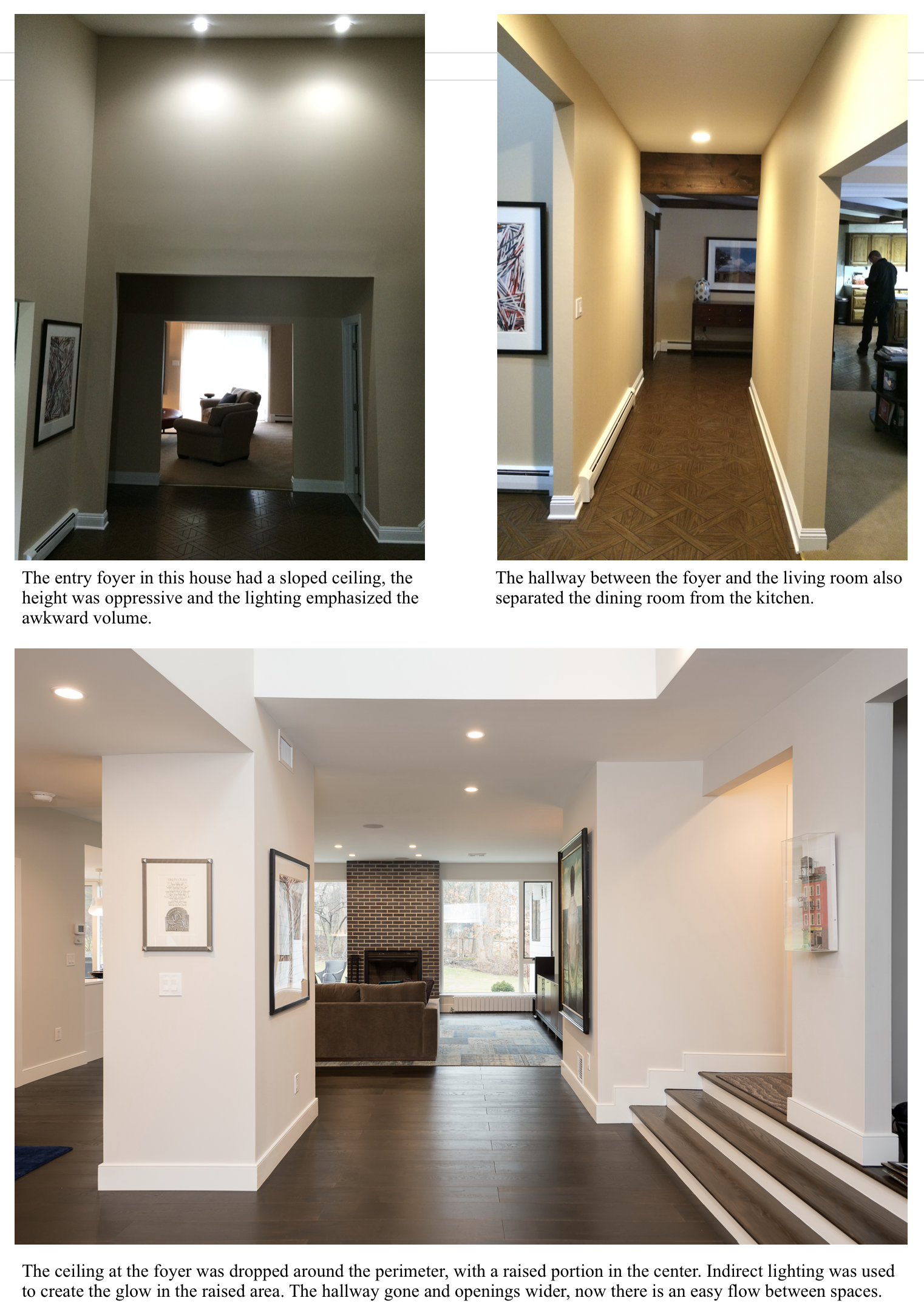 I like to think I've given clients homes that are successful by any measure, and particularly in this era of stay-at-home. I sent an email to a client whose whole house renovation project was completed last year, checking in on how they were doing, and got this great reply:
"At least twice a week, Kush and I reflect on how happy we are with our home and how fortunate we are to be riding this crisis out here, with our high ceilings, beautiful kitchen, spacious bathrooms and calming landscape. We can't thank you enough!!"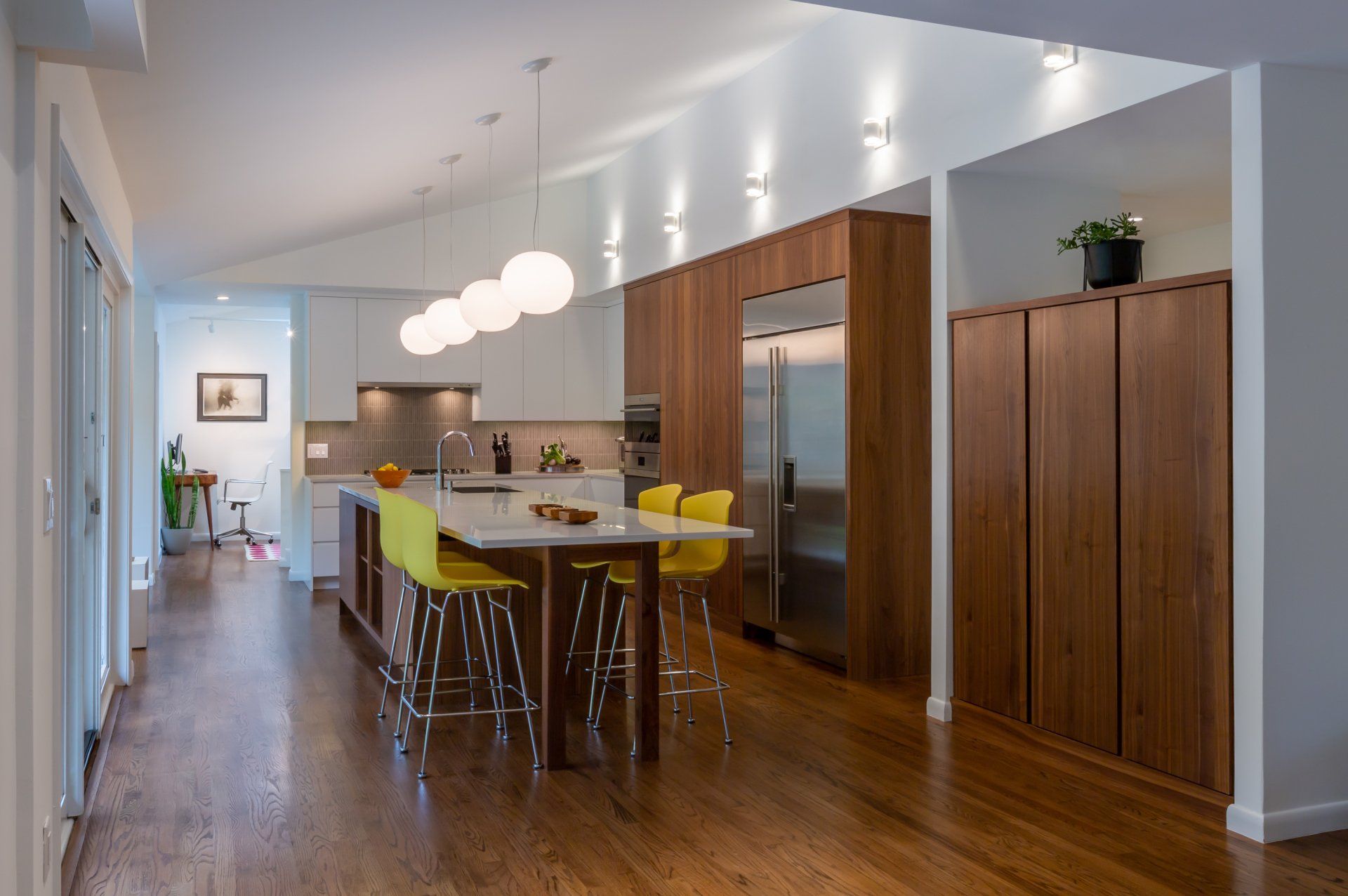 The following day, I receive this unsolicited text from another client who had also recently moved into their new house:
"Hi Gary, just want to let you know that your design of my house keeps my sanity. This sheltering situation is a big test on how my family functions while staying together 24/7. The house provides space for each and we are able to WFH while kids get their work and play done. I cannot imagine doing this in my old house. Thank you a million again."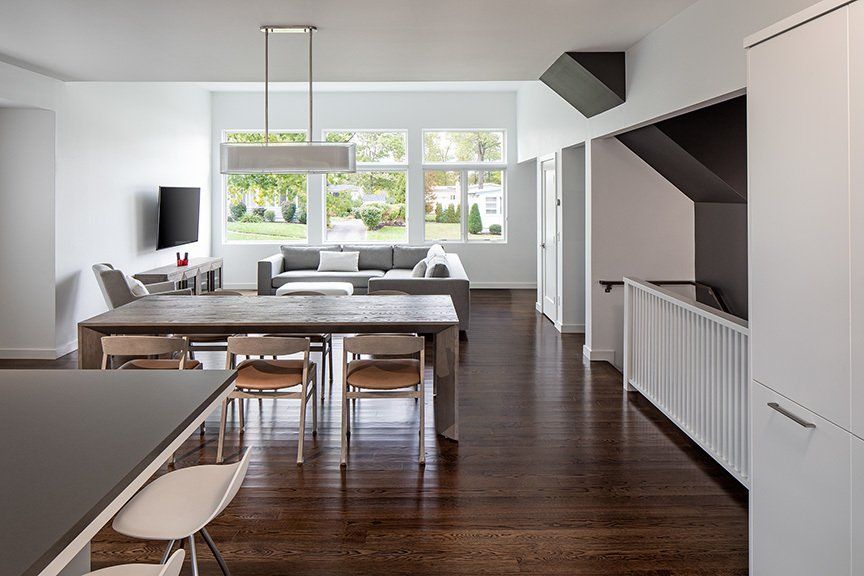 Testimonials like these are deeply gratifying for me. The family that lives in a well designed home will never stop reaping the benefits.